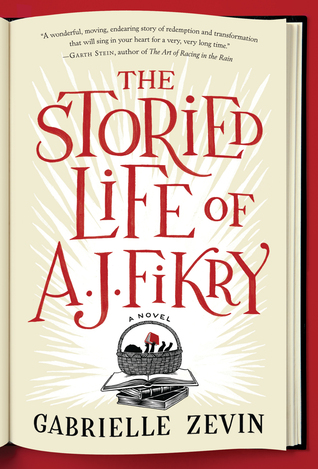 Another favorite book for the year!
The Storied Life of AJ Fikry
is really good. It had been on my list, but then made it to the top, because it qualified for a category in the
Winter Book Challenge
I am doing. We are supposed to read a "bookish" book - one that takes place in a library or bookstore or where books/reading play an important role in the book. Check and check.
AJ Fikry owns a bookstore on a little island off the coast of Massachusetts. He's had a rough couple of years, and you just feel for the guy. He's kind of grumpy, but rightfully so. Then a series of events completely changes his life. Since AJ loves books, there is plenty of discussion among the characters about books. Each chapter actually begins with AJ's review of a book or short story. I wish I had read more of the stories he reviews, because it would probably have been more meaningful to me.
Anyway, you can tell I'm struggling to say why this book was so great. And so I'll share one of my favorite quotes from one of AJ's reviews:
A question I've thought about a great deal is why it is so much easier to write about the things we dislike/hate/acknowledge to be flawed than the things we love.
My thoughts exactly! I find that every time I go to write a book review. I'll usually say "I loved this book! Here's what I didn't like..." What is that? Why is it so much easier to articulate the reasons we didn't like something than the reasons we do like it? I don't know, but I loved that quote because I definitely have that problem and then I feel like a total pessimist.
In conclusion - I loved this book. I don't really know why. My only complaint is that it was over too fast. You should probably read it. I finished it in about 3 days, so it's a quick one!